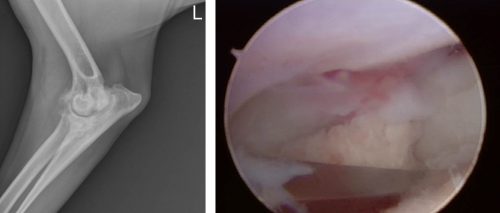 Is your dog experiencing front leg lameness?
By Rebecca Wolf, VMD, DACVS-SA
Many of the orthopedic problems we diagnose in forelimbs are now treated arthroscopically, meaning smaller incisions, fewer complications, and less postoperative pain.  In the shoulder, osteochondrosis dissecans (OCD) and medial shoulder instability benefit greatly from an arthroscopic approach.  In the elbow, arthroscopy is used to treat elbow dysplasia, which can include fragmented medial coronoid disease, OCD, and elbow incongruency.  If your dog has forelimb lameness, talk with your veterinarian about referral for arthroscopic treatment, and don't forget we are here 24/7 for all your veterinary needs.
Every year Metropolitan Veterinary Associates organizes a 5K run/walk (leashed participants are encouraged to join) with all proceeds benefiting local non-profit animal rescue organizations.  To learn more about the MVA5K click here.
There are very few national animal blood banks. Your dog may be able to save a life by donating blood. Learn more about it today by clicking here.
It's important that our patients and their families can get to know our doctors and the facility. Ask us a question about anything for a chance to see it answered on our blog.