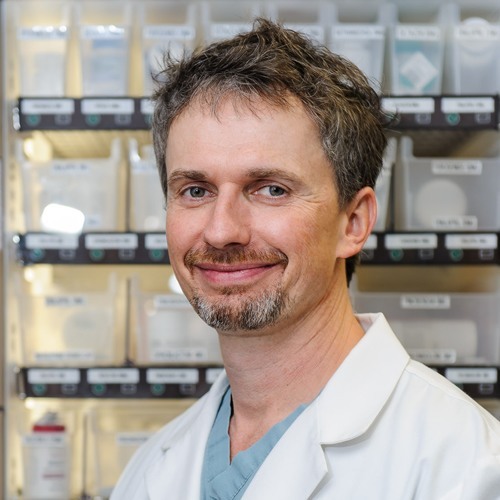 Dr. Sherman Canapp, a Maryland native, performed his undergraduate work at University of Maryland Baltimore County and Towson University. He performed graduate studies in biochemistry at Johns Hopkins University, where he gained experience in surgical and pharmaceutical research. Dr. Canapp completed a combined DVM and Masters of Clinical Science in Surgery at Kansas State University in 1999. Upon graduation, Dr. Canapp completed an internship in small animal medicine and surgery at the University of Missouri, followed by a three-year residency in small animal surgery at the University of Florida. In 2004, Dr. Canapp became a member of the American College of Veterinary Surgeons. In 2005, Dr. Canapp completed his certification in Canine Rehabilitation, followed by his certification in stem cell therapy in 2007 and TPLO certification in 2001. To date, he has performed more than 2000 TPLO procedures. Dr. Canapp has the extreme honor to be named a charter Diplomate in the newly recognized American College of Veterinary Sports Medicine and Rehabilitation (ACVSMR).
Dr. Canapp completed his resident research, Masters research and advanced training in the treatment of joint diseases. Dr. Canapp is currently researching regenerative medicine; specifically, the use of stem cell therapy and platelet rich plasma for the treatment of sports-related soft tissue injuries. Additionally, Dr. Canapp is a noted reviewer for many prominent scientific veterinary and human journals. He publishes and lectures frequently on the subjects of osteoarthritis, sports medicine, rehabilitation therapy, regenerative medicine and minimally invasive surgery, specifically canine arthroscopy. He has presented multiple times at the Veterinary Orthopedic Society Meeting, the North American Veterinary Conference and has presented at the American College of Veterinary Surgeons Symposium every year since 1999. He also regularly speaks at national and international continuing education meetings. Dr. Canapp served as ACVS Symposium Seminar Chair for Rehabilitation Therapy Laboratory and Lecture, Sports Medicine, and Lower Extremity sessions since the mid-2000s and chaired The International Rehabilitation Symposium in 2010. Dr. Canapp was also invited to Chair the Small Animal Session for the inaugural 2012 ACVSMR Symposium and will serve as Chair for the Diagnostic Musculoskeletal Ultrasound Laboratory at the 2012 ACVS Symposium. Dr. Canapp also had the honor to speak at the 2007 American Physical Therapy Association Meeting on Orthopedic Conditions in Performance Dogs and at the 2007 and 2011 United States Police Canine Association National Training Seminar. In 2007, Dr. Canapp was elected as the founding president of the American Association of Rehabilitation Veterinarians (AARV). In 2009, Dr. Canapp was included as an instructor for the Canine Rehab Institute. Dr. Canapp will serve as guest lecturer on Sports Medicine at the Orthopedic Symposium in Berlin, Germany in 2012 and will embark on a lecture tour through Japan in 2013.
Dr. Canapp currently practices orthopedic surgery and sports medicine at the Veterinary Orthopedic & Sports Medicine Group (VOSM) in Annapolis Junction, MD where he is owner and Chief of Staff. Dr. Canapp is also the President and CEO of Orthobiologic Innovations LLC, where he is actively engaged in concept and product design and development for orthopedic and arthroscopic devices, instrumentations, biologics and regenerative medicine technologies. Dr. Canapp is also an orthopedic surgery and sports medicine consultant for the National Aquarium in Baltimore, the National Zoo in Washington, D.C., the Maryland Zoo, the Washington D.C. and Regional Police K-9 Units and Search and Rescue dogs, TSA, NSA and Military K-9 units, the Washington D.C. Animal Rescue League and national agility, fly ball, field trial and disc dog organizations, Nutramax Laboratories, Merial Animal Health Company, Pfizer Animal Health, Smith & Nephew, Inc. and Johns Hopkins University School of Medicine.
Dr. Canapp's particular area of interest lies in regenerative medicine, sports medicine and minimally invasive surgery, specifically canine sports related injury, arthroscopy and fluoroscopy. Dr. Canapp has completed and teaches advanced courses in arthroscopy and routinely receives referrals for arthroscopic procedures and regenerative medicine treatments from domestic and international sources. Dr. Canapp offers this type of advanced care for our pets because he believes clients expect and deserve a standard of care no less than that of human patients.
In addition to the use of regenerative medicine for the treatment of sports related injury (specifically tendon and ligament injuries), Dr. Canapp's current research studies include the use of functional hinged stifle braces for cranial cruciate ligament injury; diagnostic joint blocking; Intra-articular injections (Hyaluronic acid; PRP; Cortisone) for the treatment of elbow osteoarthritis; therapeutic ultrasound (EXOGEN) on the healing of TPLOs; as well as the Canine Unicompartmental Elbow Resurfacing (CUE) for the treatment of elbow osteoarthritis.
Currently, Dr. Canapp and his wife, Dr. Debra Canapp (VOSM's Medical Director and lead rehabilitation therapist), along with their daughters Allyson and Isabella and son Caden reside in Howard County, Maryland, where they share a home with their Doberman, Miles and French Bulldogs, Crash and Axios. His personal interests include playing drums, racing cars and mountain biking.
To learn more about Dr. Sherman Canapp and his VOSM team, please visit http://www.VOSM.com or http://vetsportsmedicine.com/about/sherman-canapp.html.